Here's the latest version of the Tangata Manu board. It has 2 less rows than the last version and I added the spaces for Draw and Discard piles. The game plays very nicely now. The original version took a long time before players started releasing boulders to squish the other climbers. Now it happens much faster. I also feel there is much more overlap of trail travel on this board. I don't think the game is too long anymore but I have only play tested it with two players and 3 players so far. I still need to try a four player game a few times.
This would be too expensive for me to produce on my own so I'm about ready to start shopping it to publishers. I'm sure it will meet a lot of the same dead ends that my other games have run into.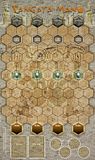 click the image to enlarge it.